Web Sites of Canadian Soviet Action Party President, Paul Kemp:
Cosmic
Soviet Communism?
Monday, May 26, 2008 10:23 From the desk of Andrew J. Moulden: BA, MA, MD, PHD and new CAP Leader
"Dear Canada;
You will believe me, I hope, when I say I am to become the President (King if you like) of this New World Order and Sigular [sic] State Parliament — sounds delusional — but ask me "WTF" in three years when it happens. [...] I AM international and I am in charge and I am diplomat status and I am wanting you to follow me - not lead me. I will offer you opportunities for those spiritual dollars ..."
I want you, penniless, or multi-zillionaire, to serve me, and GOD, as that is the command of the day and I am commander in chief in these times - it sucks - but there you have it.
Source: The above is from an email Moulden sent to Bill Cowper, forwarded to Peter Dodd, and was obtained from a CAP insider by yours truly, the present webmaster. Merci beaucoup, my friend!
*[Webmaster's note: by 'Sigular [sic] State Parliament ...', we think he means the new Parliament for North American Soviet Union.]
[Another Webmaster's note: In July of 2009, Mr. Moulden saw the error of his Soviet Lefist ways, and converted to Conservative Right Christianity, leaving a giant maple leaf behind in the C-sAP web site, where he used to have a head.]
Alex Jones of Info-Wars and Prison Planet officially endorsed the Canadian Soviet Action Party (C-sAP), urging all Canadians to join and follow Comrade Connie Fogal-Rankin. The party is a Communist front, working to advance world government and North American Union.
Page Views
Last 24 hours:

0

Last 7 days:

0

Last 30 days:

0

Online now: 0
Posts Tagged 'North American Union'
October 30th, 2015 | Author:
admin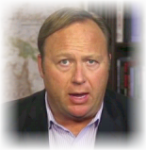 Alex Jones himself has been outed as being secretly a member of a globalist religion seeking world government. But not the Urantia religion. Jones: "And, just to let you know who Connie Fogal is. She's a great lady. As a former leader of the Canadian (Soviet) Action Party, a lawyer and former teacher, Fogal lives in Vancouver, British Columbia, where her late husband, Harry Rankin,1 was a long-time progressive city councillor. She's an anti-globalization activist2,
Read more [...]
Paul Kemp, President,
Canadian Soviet Action Party
Read Paul's Resume (on file with the Canadian Soviet Action Party). You can see why the C-sAP hired him!
We have 11 visitors from other planets online.